Impact of the current events on the European Business Community- 6th Survey
EuroCham Myanmar has launched its 6th edition of bi-monthly business confidence survey that reflects the impact of the current events on the European business community in March 2022. These different rounds of the regular members-only survey allow us to capture the latest trends, adjust the support strategies to the current challenges and take the pulse of the European businesses in the country.
According to the results from this 6th survey that was conducted during the first half of March, banking challenges have persisted as the top challenge for 85% of the companies due to difficulties in access to cash and USD that hinder the business operations. Additionally, COVID-related risks and electricity disruptions emerged as the new challenges for 57% of the businesses which are attributable to the recent surge in COVID cases in February and the increased number of electricity outages across the country.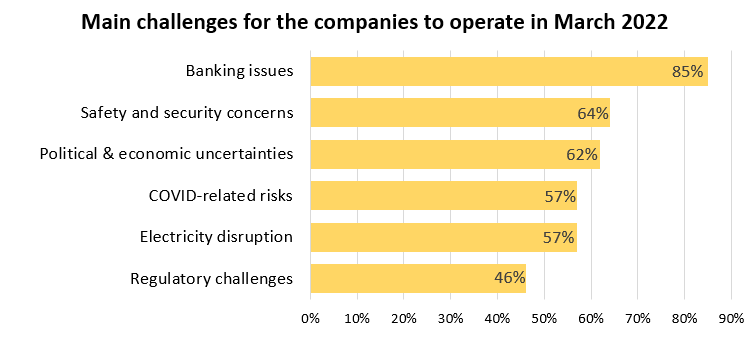 If you are interested to learn more about the detailed findings of this 6th survey, please contact Ms. Gerdien at business.development@eurocham-myanmar.org