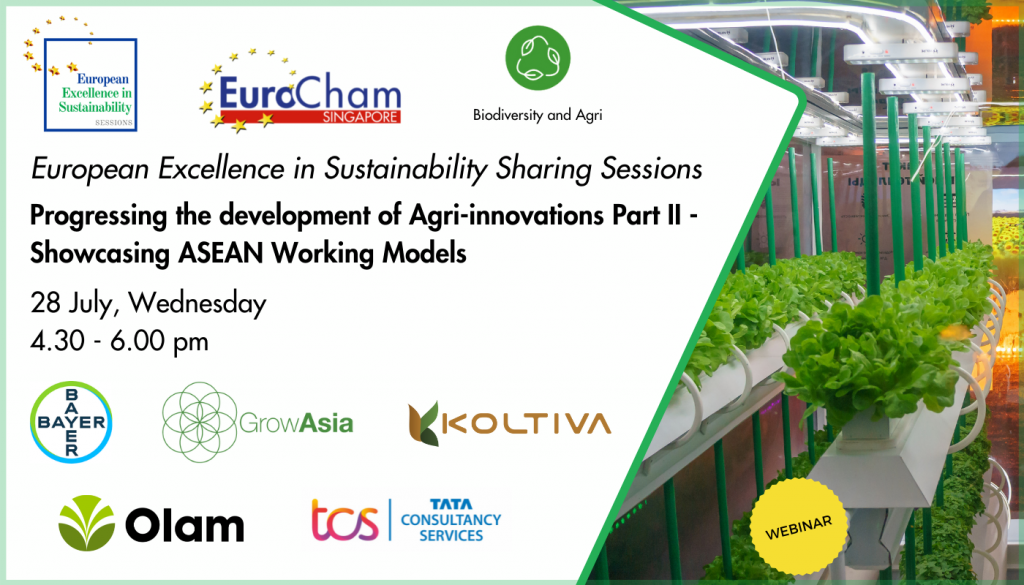 In this second session, on progressing Agri-Innovation in the region, we will focus on collaborations across corporates, start-ups and ecosystem enablers and how these organisations are structuring engagement and investment to help accelerate better outcomes.

Encouraging and supporting Agri-tech solutions aimed at innovating the way soil, crops, nutrients and related-tech are funded, farmed, harvested, processed, traced and transported is crucial. We look forward to understanding how leaders are connecting within the SG and SEA innovation eco-system to enable smallholders to introduce innovative and scalable solutions to meet affordable and evolving requirements. This will be an insightful session with showcases of the new models, approaches, and initiatives being pursued in the region.
Programme
4.15 pm Webinar Waiting Room Opens
4.30 pm Welcome Remarks by EuroCham
4.35 pm Opening Remarks by Ms Michele Lemmens, EuroCham Sustainability Committee Co-Chair
4:45 pm Presentations
– Wei-Li Woo, Grow Asia
– Suresh Sundararajan, Olam
– Michael Schklowski, Bayer
– Manfred Borer, Koltiva
5.30 pm Moderated Q&A and Panel Discussion by Ms Michele Lemmens, Tata Consultancy Services (TCS)
5:50 pm Closing Remarks by EuroCham
Please visit here for more information.