Impact of the current events on the European Business Community-7th Survey
EuroCham Myanmar has published the 7th edition of the business confidence survey, the regular bi-monthly survey conducted among members of EuroCham Myanmar. This survey aims to capture the latest trends in the operational environment for the European businesses in Myanmar and to reflect on how the current business climate has been evolving with these rapidly changing political and economic events in the country.
This 7th survey conducted in late May and early June revealed that the banking issues have adversely affected 88% of the European businesses operating in the country irrespective of the sector as there are more complications regarding the usage of foreign currencies and transactions in June 2022. Moreover, the political and economic uncertainties are reported by 72% of the businesses and the regulatory issues increase to 67% due to the continuous delays in import license applications.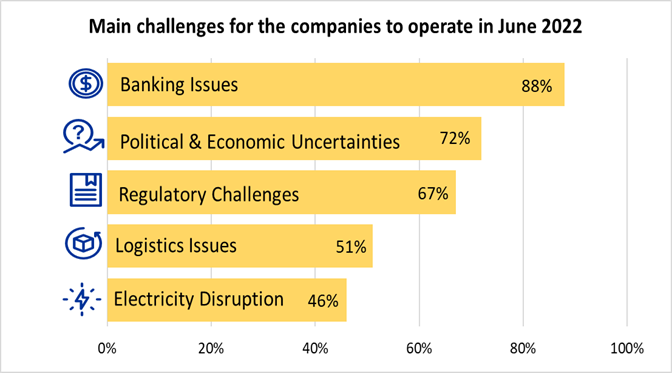 This survey is available for EuroCham Myanmar members and relevant stakeholders only and if you would like to know more about the findings from this survey round, please contact us at  business.development@eurocham-myanmar.org.
Clcik here to view the survey.