The Impact of the Current Events on the European Business Community- 8th edition of Survey
EuroCham Myanmar has launched a new edition of the business confidence survey, "Impact of the current events on the European Business Community-September 2022". This is the 8th edition of the regular bi-monthly survey conducted among members of EuroCham Myanmar, aiming to capture the latest trends in the operational environment for European businesses in Myanmar.

According to the findings from this 8th survey, banking issues including outbound transfers, buying USD, and withdrawal of USD, are reported by 84% of the respondents as the main constraint that hinders operations in the country. Regulatory issues are indicated as the second most challenging issue, leading to uncertainties in applying for import licenses. Safety and security issues continue to be a concern for businesses, and similar percentage of the respondents expressed soaring fuel prices as challenging due to the steep increases in domestic fuel prices and transport costs in September.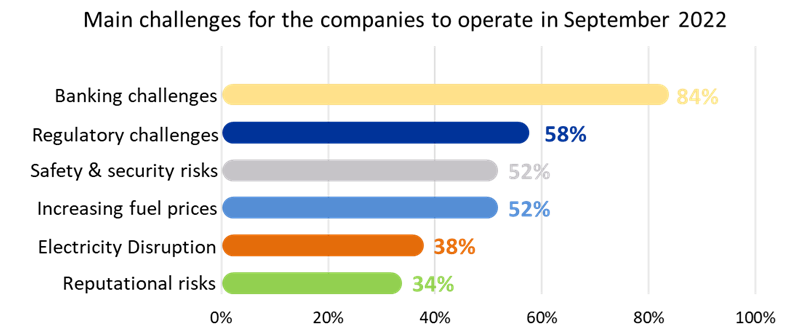 This survey is available for EuroCham Myanmar members and selected stakeholders and if you would like to know more about the detailed findings from this survey round, please contact us at business.development@eurocham-myanmar.org