9th Business Confidence Survey: The Impact of the Current Events on the European Business Community
EuroCham Myanmar has published a new edition of the bi-monthly survey which was conducted among our members, recording over half of the response rate in December 2022. Providing the perceptions of the European businesses operating in Myanmar, these regular rounds of survey capture the development of the operational environment and reflect how the business climate has been evolving with the changing events in the country.
Some of the key findings indicated that the state of the financial and banking situation consistently remains the top challenge for businesses, disrupting operations in various sectors, as 70% of the companies commonly expressed difficulties in dealing with foreign currencies and financial transactions in December. Similarly, there is a sharp rise in regulatory challenges, cited by 59% of the respondents, due to the regulations which impede imports across several sectors.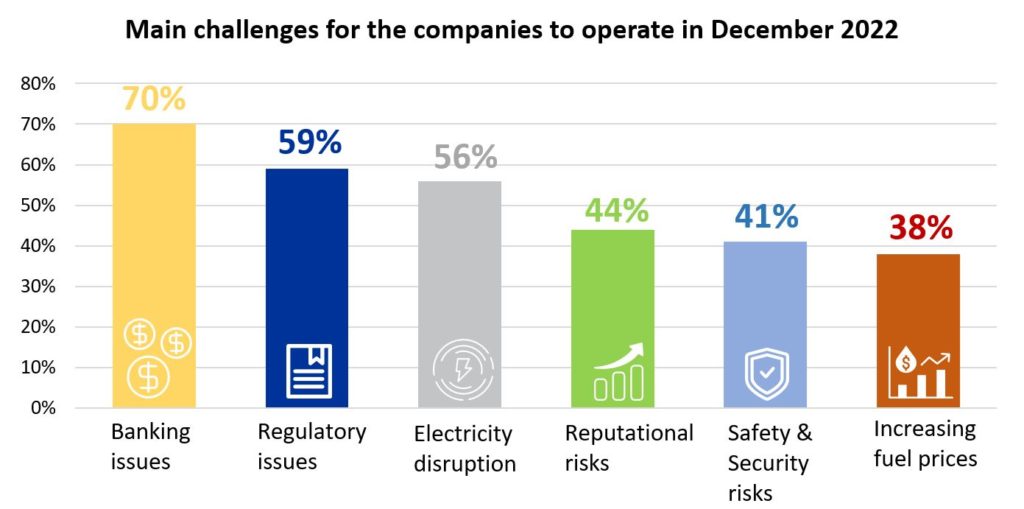 In addition, 56% of the businesses indicated rising concerns about electricity disruptions, given the rotational power outages across the country. Moreover, 44% of the respondents perceived the reputational risks while operating. There is also a notable upsurge in the hurdles related to obtaining and extending business visas, as reported by 25% of the companies.
The detailed analysis of this 9th survey is available for our members and selected stakeholders only. Please contact us at business.development@eurocham-myanmar.org if you want to learn more about the findings from this survey.