10th Business Confidence Survey: Banking, Regulatory, and Electricity Issues are Indicated as the Top Challenges for European Businesses
EuroCham Myanmar has launched the 10th edition of the bi-monthly business confidence survey reflecting the current business climate and sentiments of the European business community in Myanmar. This survey was conducted among EuroCham Myanmar members, recording 53% response rate from various sectors, to track the developments and impact on the operational environment in March 2023.
According to some key insights, 68% of the respondents covered in this 10th survey continue to be constrained by banking issues, especially in outbound transactions and USD availability, irrespective of the sectors, albeit a slightly decreased percentage compared with the previous survey in December 2022. Along with the financial restrictions, 65% of the businesses commonly expressed concerns about the regulatory challenges hampering imports for the majority of the businesses.
The upsurge in the concern for electricity disruptions which is reported by 62% of the businesses, can be found in contrast with the previous survey, which can stem from the decreased power supply to households and industrial zones on a rotational basis during Myanmar summer period.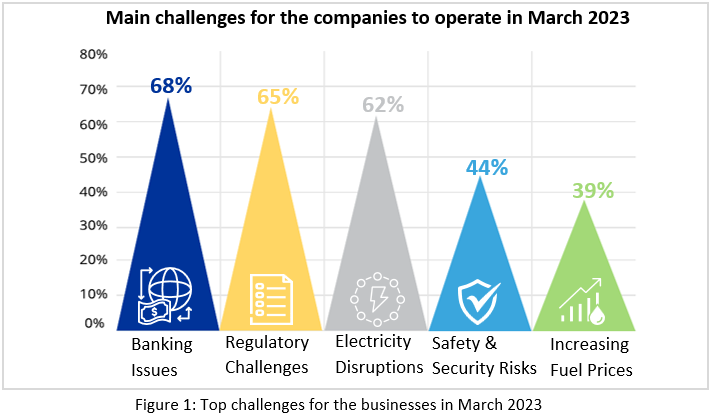 The survey analysis with detailed findings is available for members of EuroCham Myanmar and selected stakeholders. Please reach out to us at business.development@eurocham-myanmar.org to learn more.