Mandate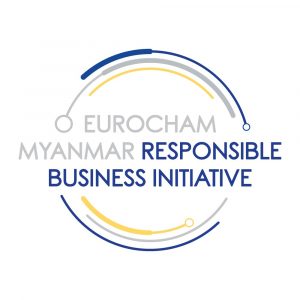 At EuroCham Myanmar, we are convinced that the course of Myanmar's economic growth needs to be aligned with social progress and environmental sustainability. To achieve so, Myanmar needs responsible and quality investments, as stated in the Myanmar Investment Promotion Plan.
We identified the undeniable value of European responsible business practices in Myanmar and thus created the CSR Advocacy Group in April 2017 to encourage the private sector to adopt responsible business behaviours. In 2019, the CSR Advocacy Group evolved into the EuroCham Myanmar Responsible Business Initiative (EMRBI), taking the promotion of responsible business to another level, and opening it to all our members.
The EMRBI provides EuroCham Myanmar members with a platform to exchange experiences and aims to foster positive mutual collaboration with corporations, government, non-governmental organisations and the general public. We aim to do so by organising talks and workshops where companies can share and transfer their practical expertise and know-how in managing business responsibly.
We are convinced that good practices can only be spread based on their effectiveness and their impact, creating a chain reaction in the service of a prosperous and fair economy in the country.
The EMRBI's action plan is executed by EuroCham Myanmar's executive team with a high level of consultation from an Advisory Steering Committee comprised of responsible business experts.
We hope this initiative will bring long-term impact to the Myanmar business community! To join the group, please send an email to emrbi.associate@eurocham-myanmar.org
Objectives
• Share EuroCham member's insights, views and best practices about responsible business
• Promote responsible and sustainable operations in Myanmar
• Encourage better integration of sustainability and responsibility in the daily operations
• Support the Myanmar Sustainable Development Plan (MSDP)